Combine big summer whitewater rafting, a beautiful high desert canyon cut through the Sierra foothills, and an ultra-comfortable 'safari style' backcountry camp (think glamping).  California is renowned for its world-class whitewater rivers. And with its granite gorges, smooth boulders, steep drops, and swirling pools, the Kern is quintessential California whitewater. This is a uniquely action-packed and comfortable luxury camping adventure on one the finest Class IV rivers in the West – there is no other trip like it in the United States.
A note from Pete –
The Kern & our Safari Camp: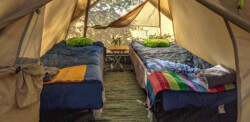 We are so excited to show people the Kern River. It is quintessential Califorina Whitewater and one of the rivers I dreamed about running when I first started guiding. It is also giving us a chance to bring our award winning Upper Klamath Safari Camp trip and concept to another river.
Our Upper Klamath River Safari took almost 5 years to develop and eventually introduced 1000's of people to wild rivers. Along the way it won awards from Sunset and other publications. The trip was active, very comfortable, and most importantly – really fun. With Klamath Dam removal (a great thing for the river) 2023 was our last season doing the Upper Klamath River Safari. We are now beyond excited to be able to bring the same style trip to the Kern River and Southern California.
I love extremely remote and wild places. But I also love active days outside followed by good food and drink, unique & comfortable accommodations, all shared with friends new and old. It is why we designed the Upper Klamath River Safari and why we are so excited for this trip.
I hope we will have a chance to show it to you.
Kind Regards,
Pete
Guide/Owner
Beginning in its headwaters on Mt Whitney, California's highest peak, the Kern tumbles south through wilderness and then the Kernville area before turning southwest and cutting a deep canyon through the Greenhorn Mountains. Known as the 'Lower Kern,' this canyon creates a stretch that is accessible but secluded, with high desert beauty and amazing summer whitewater.
The whitewater is the style that has made California famous in the boating community – big clean drops over massive boulders bounded by stunning granite walls. The two-day trip begins with a fun Class-III warm-up, making this stretch a recommended rafting trip for first-timers or experts in good health. There is plenty of opportunity to learn the finer points of river running before the whitewater intensifies. From lunch on day one through the end of day two the river is packed with exciting but approachable Class IV whitewater – there are few summer stretches of river like it.
In the afternoon we will float into our Kern River Safari Camp. The camp is a safari style riverside base camp located deep in the canyon.  There is a shaded eating and hang-out area, hammocks, and beach games. You'll enjoy your own shaded safari style walk-in tent with a private deck that is set among massive granite boulders with views of the river and the high desert canyon. The late afternoon can be spent hiking, playing games in the sun, having a drink by the river, or just lounging in a hammock. In the evening we will serve appetizers, a big dinner, and dessert, followed by a comfortable night under the star-studded high desert sky.
The Kern Rafting Safari is done with Momentum's signature style, attention to detail, and handcrafted quality. With creative menus, personal service and hospitality, one of the most experienced (and friendly) guide staffs in the world, and with all the little touches we are known for. Our comfortable camp makes this trip an incredible introduction to camping (and ideal for those who find regular camping to be not their cup of tea:)). And the itinerary and the Class III warm up section make it a perfect rafting trip for first-timers in good health, as they have plenty of time to master the finer points of river running.
The location of the Kern also adds to its accessibility. It is a short 3 hour drive from the Los Angeles area, 4 hours from Palm Springs, and there are direct flights from cities like San Francisco, Phoenix, and Denver. Trips can be combined with time exploring Historic Kernville and Sequoia National Park, as well as enjoying world class fly fishing, hiking, and mountain biking.
Join us for a unique combination of some of the country's best summer whitewater and a unique safari style riverside retreat – all a short drive from LA.  It's a quick, active, and comfortable wild river escape – away from traffic, lines, and hectic daily schedules.

Please Note: This trip is perfect for experienced and first time paddlers (and for those who find regular camping to be not their cup of tea). However all guests need to be in reasonable physical condition for the whitewater rafting section. If you have any questions or concerns please give us a call or an email.